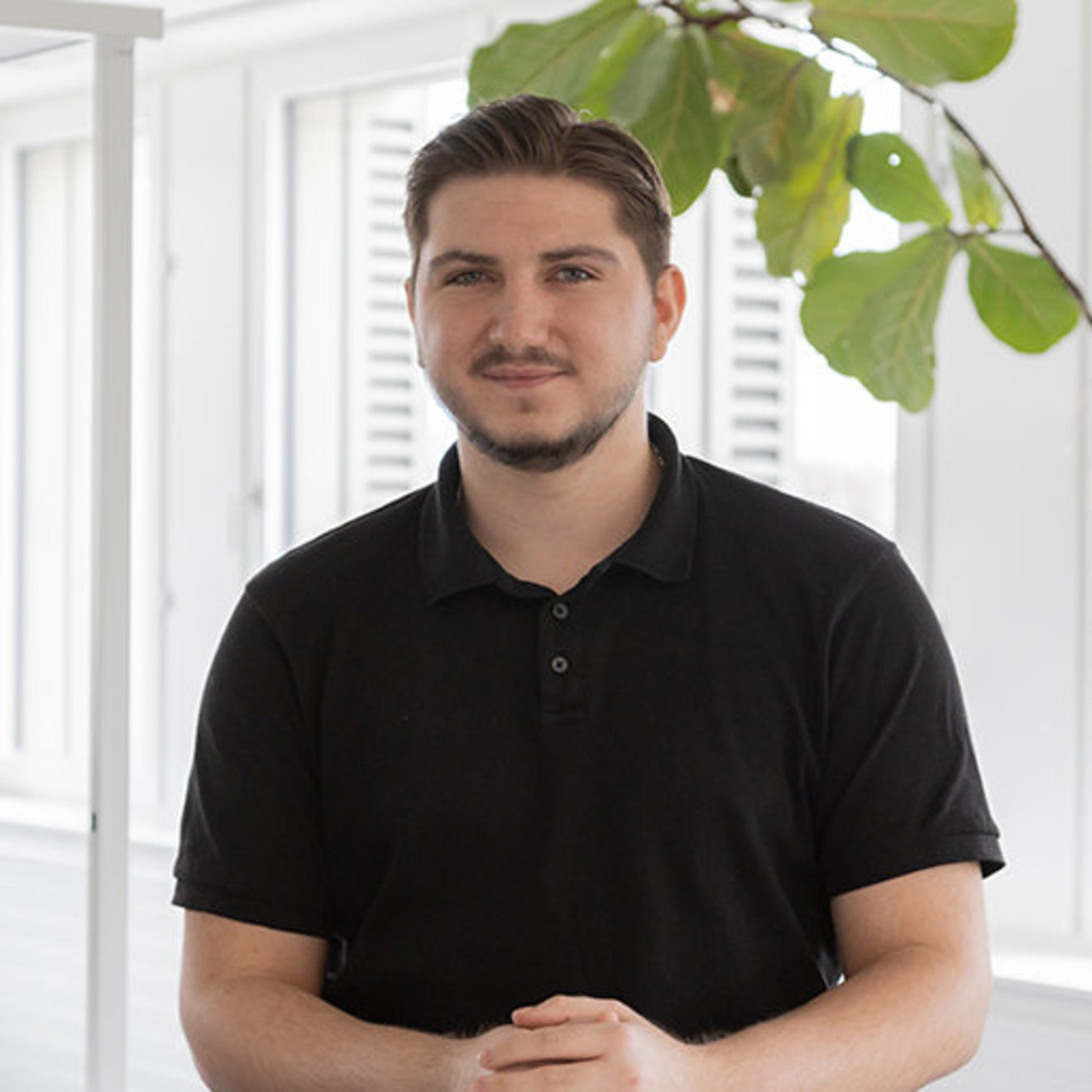 Rene Bordowski, 22 years, 1st year
Training: Office Manager
What was the first day like for you at Markant? And how was the first week?
I thought the first day was very good and also exciting. It was an easy induction which explained the basics about Markant. I noticed that it was also designed to help the trainees get to know each other and to facilitate team building. The training officers helped to put us at ease, and a pleasant, relaxed atmosphere quickly developed.
In my first week at work, I noticed that there are no typical tasks for trainees, rather the emphasis is on learning and picking things up for ourselves.

How do find working at Markant and what makes it so special?
It's good fun and I'm also being challenged – which is something that I really like. You're quickly assigned important and complex tasks, and you have the opportunity to learn a lot when carrying out each task.
When carrying out a task, you also get enough time to try things out for yourself and even to find potential solutions. I also really like the amount of communication that's involved, both with the training officer and within Markant. The training officer is very receptive to any suggestions and specific requests, and this also makes the planning of the jobs more flexible. I also feel that people are very receptive to any good new ideas and that they welcome it if you suggest your own projects and are willing to listen to you.
What I find special is the collaboration between the many different departments and services. And due to my affinity for IT I also like the fact that there is always a technical component to the work, so I can make good use of my IT skills as well as my office management skills.

How are you involved in planning the course of your training at Markant?
You can actively obtain information and get involved via the website but also via the "MSI-Info" which presents a different unit at Markant each month and where our Managing Director provides information about current topics.
You can also find ideas here for potential areas of interest and then you can discuss these proposals and wishes with the training officer.
But contacts with other apprentices are also encouraged and two-way communication is definitely encouraged. In discussions, you can then also swap experiences and network with each other.
Regular discussions are held where people take the time to talk to you about how you're currently feeling and about your own future, or even your opinion regarding current topics.

What is there that you hadn't originally expected? What has surprised you about the training?
I've been surprised by Markant's business model and its various subsidiaries as well as its corporate philosophy and the various services that it provides. It's really varied and interesting – which I hadn't expected to be the case.
Another thing that I really like is the mentoring programme. Each new apprentice and student is allocated a mentor as his or her point of contact.
It's cool that there's an opportunity to talk to someone in the same situation and also to discuss matters that you wouldn't really want to raise with your line manager.
But in overall terms the contacts between trainees is a major benefit of working here. Regular events are also held, including events just for trainees, and that naturally promotes team spirit.

How does Markant support you with the training?
In each department that you work in you have a direct contact person who you can always approach.
He or she is glad to help you if you have any questions or if you are experiencing any difficulties with a particular task. There's also the option of support in the form of extra training if you're having difficulty with a particular subject. Overall, I feel that my employer is really keen to make sure that we acquire the necessary knowledge and provide a good level of performance. The allowance for buying specialist reading materials is also handy, particularly for preparing for the final examination. It means you can buy more expensive text books than you would perhaps if you were using your own money.
What I also think is really cool is that you get your bus/train fares paid by the company. It's particularly useful for people who are too young to have passed their driving test, but also for those who don't want to drive.

What are your prospects of being taken on? Do you feel that you're being given a good preparation for your future career?
I feel that I'm being very well looked after, even in my first year of study The fact that the training schedule is really flexible means that you can go back and find out more about a field that you found interesting when you first worked there. And often, the many discussions that you have about your options help you to make the right choice. Discussions with the staff of the areas that you work are also really useful and informative.
You notice that Markant trains you in order to take you on and that as a trainee you're also definitely included in its plans. Markant wants to make sure that we're happy with the area in which we are taken on so that we enjoy working there and we stay with the company. There's also the opportunity to do a dual course of study in order to obtain additional qualifications, including for other departments or positions.

What prompted your decision to choose a business studies training programme with Markant?
I first came into contact with business studies at secondary school, and I found it interesting but didn't take things any further at that stage. At the Kaufmännisches Berufskolleg (commercial vocational college) I found that I liked the activities and the subjects and so my interest was aroused. I then became aware that business studies are a key part of any economic activity, even in the case of simple everyday situations like doing the shopping. I've always enjoyed organising and planning things. The attraction of the training is definitely the combination of theory and practice. During the training at Markant, you also learn a lot about yourself and you become more mature. Above all, I enjoy the practical experience and the immersion in the world of work and in a company. Being in contact with colleagues or finding out about the processes in a business also makes getting started in the world of work easier. This was a big plus factor for me because it was important for me to "find my feet easily" in a company.
For better readability, only the masculine form is used on the website. This form is explicitly understood to be gender-neutral.