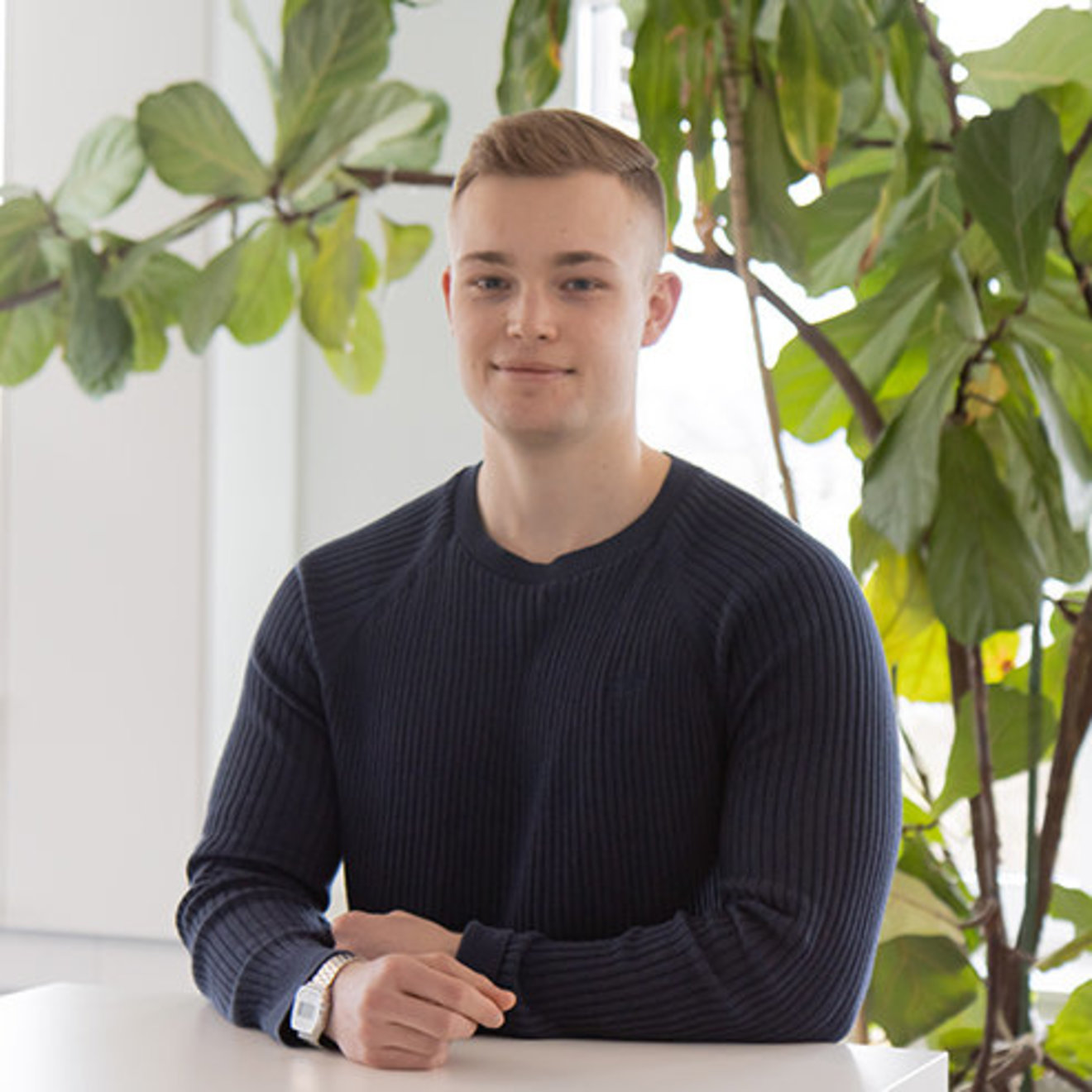 Jan Bohnert, 23 years, 2nd year
Dual course of study: DHBW Bachelor of Arts - Business Information Systems
What was the first day like for you at Markant? And how was the first week?
Because I actually did my training here, it's quite a long time ago now. But I remember that it was a very enjoyable experience at the start. We were given an introduction to everything – Markant, the programmes, the processes and also the safety precautions. We were also provided with an overview of the training schedule and so we had a 'gentle' introduction to the company. People were a bit uptight at first, but in my case that quickly changed into curiosity because the whole experience was designed to be enjoyable. Another thing that made the situation more relaxed was the fact that we already knew each other. There'd been an "icebreaker" event for us all beforehand at an adventure park followed by a barbecue.
In the first week at the training workshop, there was a big emphasis on group dynamics and getting to know each other. Games and challenges were used to get communication going. For instance, we had to put together a PC housing so that an egg contained in it wouldn't be broken. So team spirit quickly developed.

How do find working at Markant and what makes it so special?
I really like the work at Markant and I find it very interesting because there's a wide range of tasks to do and so the work can be very varied. The variety of what you do makes it very interesting. The various units that you get to work in mean that you're always carrying out different tasks, and so you find out about yourself and what your strengths are. The training workshop gives you the basic skills to be able to work in any team. The training is general in nature and the knowledge is then expanded through your work in the teams.
At the vocational school too, we are usually ahead of the other students because we have picked up the contents and the knowledge has been provided to us for a specific purpose.
For me what also makes it special is the atmosphere in the teams because even younger people have a say and your own ideas are taken up regardless of your professional experience.
Overall, there's good communication not only within the team but also between teams. You notice that experienced colleagues are keen to help and that there's a transfer of know-how.
The method of working is also up-to-date, for example some teams use the agile scrum method. It's also good that people here are will to embrace new technologies and keep up with the times.
How are you involved in planning the course of your training at Markant?
Due to my previous training, I already know many areas of the company and I've been able to check many of them out. In the third apprenticeship year, you can more or less make your own decision regarding the area that you would like to find out more about. This gives you the opportunity to expand your interests and consolidate your strengths. Right now with the help of the training officer, I'm deciding which areas I'll be working in (and in which teams) because the training has already shown me where my interests lie.
I can also pick for myself the subjects that I want to deal with in my project assignments. The teams and the training officers often put forward suggestions, and I contribute my own ideas. Then, we jointly try and find the most suitable subject area.

What is there that you hadn't originally expected? What has surprised you about the training?
I was surprised that we didn't study maths at the vocational school. I think the level of support provided by the company that's training me is fantastic. After my training, I worked here part-time and resat my university entrance exams so that I could then start my dual study course here. It's great to have the opportunity to continue one's professional development after the training – and that Markant provides support for this.
I also wouldn't have expected such a good work-life balance – flexi-time is a real benefit in this regard. It lets you achieve a healthy balance between your private and professional life.
The onboarding and the moving between different units also work very well here, and you can quickly get up to speed in the teams and you're treated as part of the team. I've always seen myself as a "team player" and I'm allowed to make my own contribution to projects and get involved in them. So far I've had no problems settling in. Whenever I've moved to a different unit, I've felt welcome and have been involved in the work straight away.
I've been especially struck by the positive attitude to trainees, because on previous work placements I found that that wasn't always the case.

How does Markant support you with the training?
The support that Markant provides enables me to put into practice in an effective way the theoretical knowledge that I have learnt. The practical work helps you to assimilate what you have learnt so that you understand it better. You're allowed to try things out here and to apply ideas and concepts that you have just learned.
The subsidised travel is also very useful for students, especially if you want to travel home at weekends during the theoretical phase of the course.
The accommodation allowance that Markant provides is really helpful. Because I live in shared accommodation in Karlsruhe it's really useful for helping me to cover my monthly expenses.
But a great deal of support is also provided within the company. You get lots of insights and your own knowledge is expanded. Members of staff take the time to answer any questions that you may have. If I wasn't sure about any points in my university studies I could just ask experts at Markant for help. The experts took the time to help me and were able to clear up my questions. In addition, seminars are provided on soft skills such as communication training, time management or presentation techniques, and I think this is really helpful for my day-to-day work.

What are your prospects of being taken on? Do you feel that you're being given a good preparation for your future career?
Yes, definitely. We have continuous, constructive feedback discussions which provide a sense of security and let you know about any points that you should do more work on. You also get a lot of feedback from the teams, and people are generally willing to make suggestions about how you can improve your performance. You're allowed to say which areas you're interested in and when you're taken on you can decide for yourself where you will be able to make the best use of your strengths and you can say in which teams you would like to work.
If I work well in the teams and show a good level of professional commitment, I think I can realistically expect to be taken on.

What prompted your decision to choose an IT training/study programme with Markant?
It was in the 5th/6th year at secondary school that I first came into contact with the subject of IT. Then as I got older, I increasingly often found myself using programming languages just as a hobby. I built my very first computer when I was young because I wanted to understand the technology behind it. Even then I found it exciting to be working on something which provides a visible end result. In maths lessons, I also noticed that there are various ways of finding a solution – just as there in IT.
In the seventh year at secondary school, we were allowed to do an internship, and that's when I decided to do it in an IT department. I also thought it was good that you could interact so much with colleagues and work together on finding solutions. What I particularly liked about it was feeling part of a community.
I still remember quite clearly writing my very first program at that time – for a pocket calculator. When it ended up working properly I was really proud. From then on it was clear to me that I really wanted to work in computer science. Then in the final year at school, we went to the careers information fair where I asked about companies that provide training in this field. That's when I was told about Markant. I thought the work and activities involved were impressive, and it was cool to be able to talk directly to a trainee who worked there. It was also great that it was a discussion on equal terms and I was able to find out lots of information that's not available online.
Then, I submitted an application to the company, and from then on programming has been one of my hobbies. I was delighted to see just how much freedom you are given here and that there are not actually any rules about the right way to find a solution. You can contribute your own ideas and give free rein to your creativity.
Also, when there are new projects I find it useful to have a chat about them in the team.
After my training, I wanted to continue my training in order to further expand and deepen my theoretical knowledge. That's why I then decided on a dual study course, i.e. one which actually lets me apply the knowledge that I acquire. In the company in particular, there's always an opportunity try out and use your knowledge, and to provide added value by doing so. I've already loved the training at Markant, and the company has taken an interest in it, so it's been a good fit. For me, it was also a sign that I was appreciated and it made it even clearer to me that I should continue working for Markant.
For better readability, only the masculine form is used on the website. This form is explicitly understood to be gender-neutral.